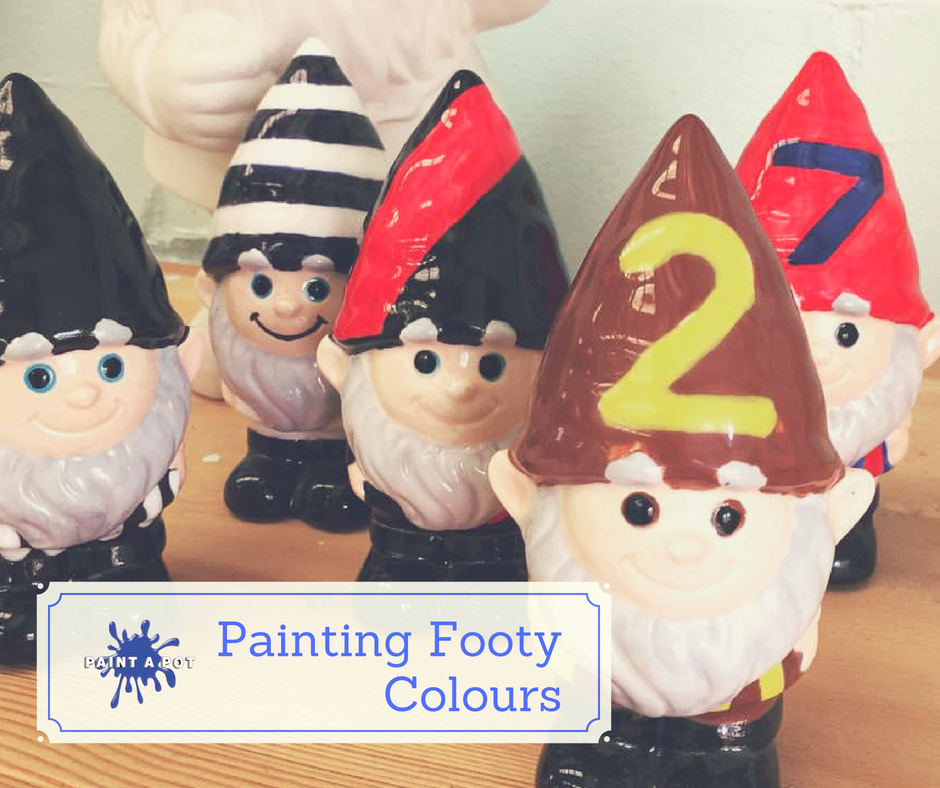 Paint Footy Colours this September
Gnome painting is back for another AFL finals season – so it's time to grab a gnome and start painting footy colours!
Bringing together footy fever with creative fun, painting footy colours on ceramic pieces is the ideal way for kids to get into the finals spirit.
Paint a Pot's footy gnomes are fast becoming a September tradition. Coming along to paint footy colours on a ceramic gnome is a wonderfully unique way to support your favourite team.
So, what do you do with your footy gnome? He makes a fantastic ornament, either for the football season or all year round. They also make perfect gifts for the dedicated AFL fans in your life! It might seem like an odd way to honour your favourite team, but you must admit that they are charming little critters.
Whatever team you barrack for, a footy gnome is a distinctive addition to the home or garden. Even if your team hasn't made the AFL finals, you can still join in the fun, painting footy colours of your choice.
One quick Google search and you'll see that AFL footy gnomes are a popular Christmas gift. If you have footy fanatics on your Christmas shopping list, get the kids painting this September and start your gift collection early. We know you can buy a ready-made gnome, but nothing beats hand-made for a heartfelt gift, especially when the kids do the painting!
Are you looking for an extra special birthday party idea? If you have a kid who loves footy, and has a birthday in September, you can combine the two and throw one of our footy-themed Paint a Pot kids parties – every guest gets to take home their own footy gnome! They can take them home on the day, or leave them to be fired overnight.
For more information about footy gnomes and painting footy colours, contact us via our website, or check out our Facebook page to keep up with all of the Paint a Pot news.