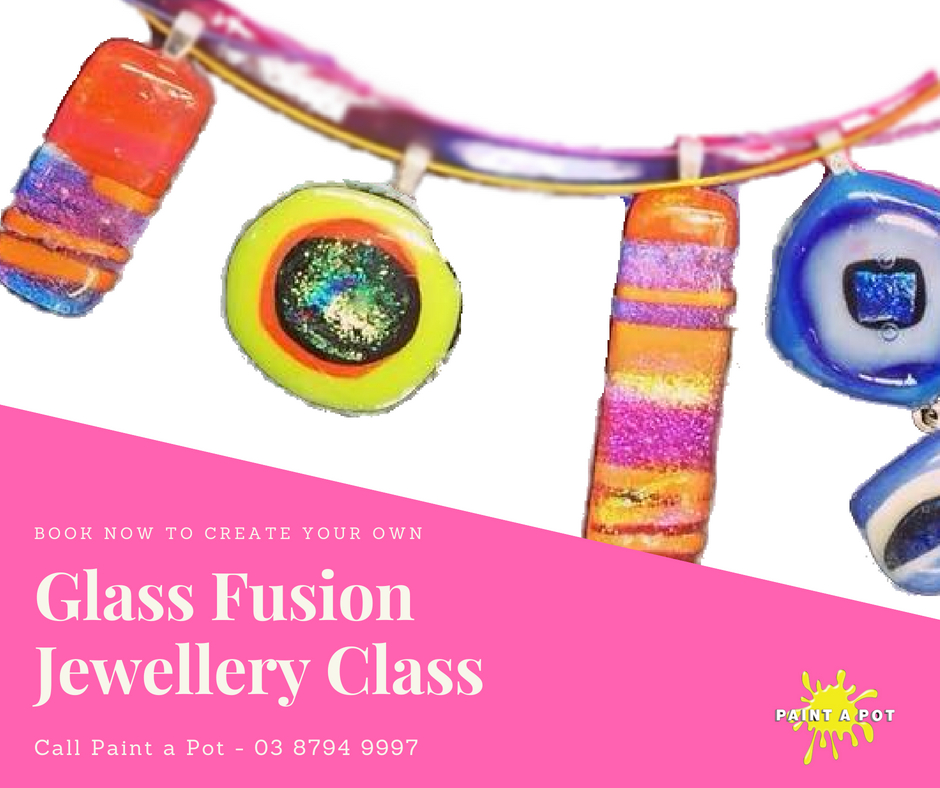 Glass Fusion Jewellery Class – It's Back!
We believe that the time is always right for new jewellery, and you can make your own in our glass fusion jewellery class.
The glass fusion jewellery class is a regular fixture on Paint a Pot's calendar and our next class is coming up on 16th August at 7:00pm.
How does it work? In our glass fusion jewellery class, each participant gets to make 10 pieces of stunning jewellery, using pieces of coloured glass that are melded together. The results are unique and quite spectacular.
You can create some jewellery for yourself, or start the gift-making for upcoming birthdays or Christmas.
It might come as a shock, but we have less than 5 months to go until Christmas! When you start making your own list, it usually ends up longer than expected… immediate and extended family, teachers and friends.
It can be such a big task that many people start the process months before the holidays!
In our glass fusion jewellery class, the 10 pieces that you create can go a long way to starting your gift treasury, and that includes keeping a couple of favourite items for yourself.
Who are some of the lucky people who would love a piece of your glass fusion jewellery gift?
Mums and Grandmas
This is always a winner. Anything made with love is a gift to be cherished, and it's even better when it can be worn and displayed.
Teachers
These are sometimes the trickiest presents of them all. When you have a number of teachers to find mementos for, it can be hard to think of something that is both individual while still having a sense of equality to it. After all, many of the teachers will be talking about their gifts at the close of the school year. Glass fusion jewellery is perfect, and you can match the piece to the personality of the teacher!
School Friends
Some older children like to give their closest friends a personalised gift when school finishes for the year, or on birthdays throughout the year. These are a lovely idea for young girls.
Last Minute Gifts
A glass fusion jewellery piece is a great standby gift when you get a request or birthday reminder out of the blue – especially when they look like a custom-made, well-planned present.
Availability in our glass fusion jewellery class is limited, so it is best to call and book quickly to avoid disappointment.
Contact Paint a Pot on (03) 8794 9997, visit our website, or send us a message via our Facebook page to secure your place.