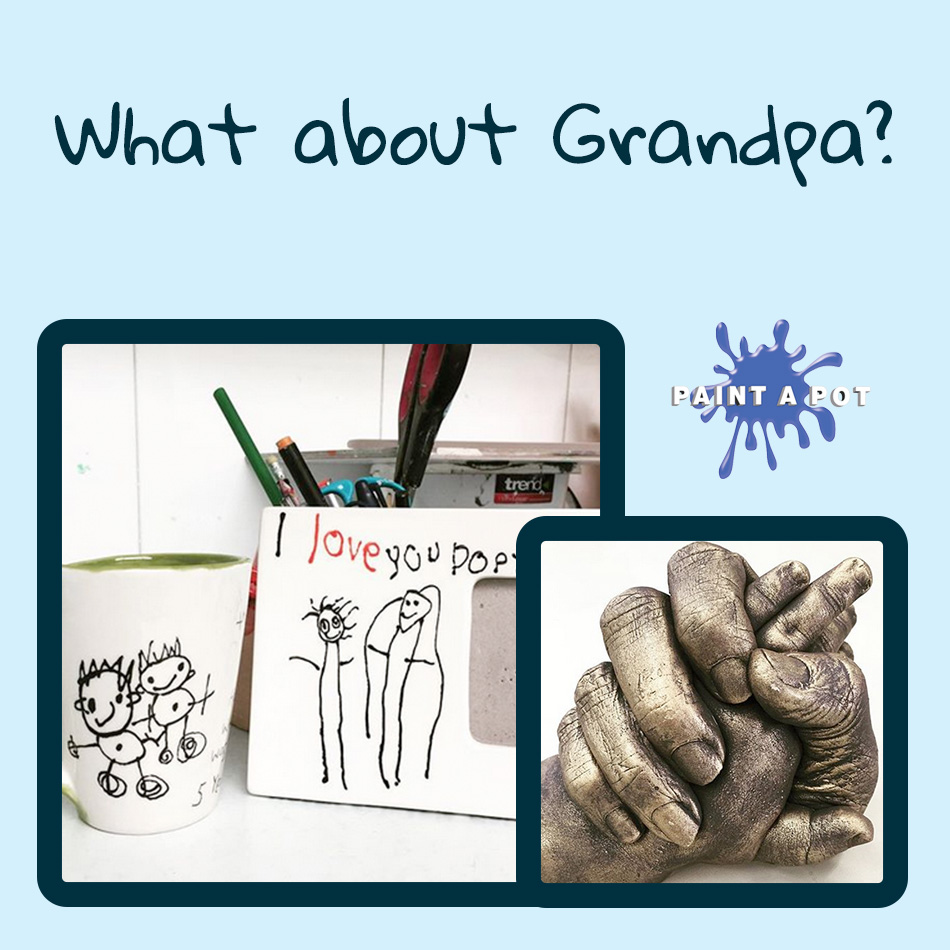 He can go by many different names – Pop, Poppy, Pappa, Papou, Opa or Gramps – but you could never forget Grandpa on Father's Day.
So why not get the kids to make him something remarkable that he'll cherish? Having a special gift ready to give to Grandpa on Father's Day is a sure-fire way to take this special day up a notch.
The Paint a Pot paint and play centre is loaded with great present ideas for Grandpa on Father's Day. It's the ideal fusion of craft, free play… and coffee for Mum. The grandchildren get to paint till they have spent all of their creative energy, and then have a run in our soft play centre.
If you are after for some gift inspiration, look no further. Our collection of ceramic pieces really does have something for everyone.
Coffee Cups
Functional as well as memorable, painting a coffee cup for Grandpa on Father's Day is pretty much the perfect gift. It is something he will use every day, and remember the adoring grandchild who made it for him.
Plates
If the kids would like to paint a special plate, we have a number of different shapes and sizes. Paint a picture and write a message – it's like a card and a gift all wrapped into one.
Footy Fan?
Whatever team he barracks for, this really is one of our favourite ideas for Grandpa on Father's Day. With the football finals coming up, it is brilliant timing!
Animals
If Pop has a favourite animal, you're almost sure to find it at Paint a Pot. Dogs, cats, birds and unicorns are all on offer.
Clocks
We believe that you can make a clock out of nearly anything! Whether it is one of our ceramic tiles, painted however the kids please, or a resin piece created in one of our classes, you can add a clock kit and turn it into a functional piece of wall art. Plus, he'll never be late to dinner again!
At Paint a Pot, there are plenty of options to make a heartfelt gift for Grandpa on Father's Day. We are open 7 days a week from 9:30am-5:00pm for paint and play. All art classes require bookings, and you can find out details by contacting us via our website or Facebook page.